Fire Extinguishers and Training
Fire extinguishers and fire blankets are a first line of defence from fire. They are also used to extinguish or control small fires. With proper fire extinguishers and training you will know exactly what to do if a fire breaks out in your home, office or business. Fire Safe ANZ install and service all fire extinguishers and blankets to AS2444 & AS1851. To meet Australian Standards fire extinguishers and blankets require regular inspection that ensures correct and reliable function in the event of a fire. Different fires require different types of extinguishers; you can download a Firefighting Equipment Identification Chart here.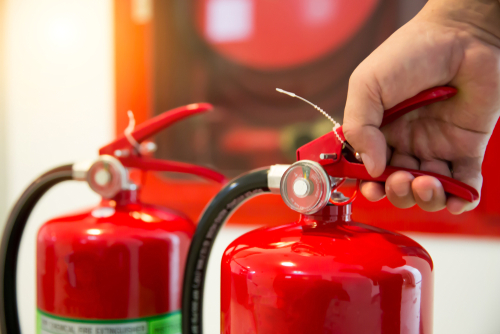 How Do You Test A Fire Extinguisher?
Australian law requires mandatory fire extinguisher inspections every 6 months. The following steps must be taken when testing a fire extinguisher and must only be carried out by a competent fire practitioner:
Check there is nothing obstructing the extinguisher and it is in a suitable location for easy access and best coverage
Ensure there is correct signage identifying the contents of the extinguisher and a visible location sign
Make sure the bracket holding the extinguisher to the wall is properly secure
Ensure that the "pull pin" is in its proper place and secure, and the anti-tamper device is not broken or missing
Examine the extinguisher for any physical damage such as corrosion, leaks, a broken handle or a blocked or damaged nozzle
Weigh the extinguisher to make sure it is still full. If it is a powder extinguisher turn it upside down, listening to make sure the powder is still loose and has not solidified to the bottom of the bottle
Check the extinguisher is still in its operational date (within 5 years from the date of manufacture)
Check and update the stamp on the maintenance tag with the month of testing once all checks are completed. Any defects also need to be logged at the end of the test
Note that the list of steps above is simply a guide on how to test a fire extinguisher. Contact Fire Safe ANZ to learn more about testing, maintaining and replacing extinguishers to the correct standards.
Australian Standards For Fire Extinguishers & The Various Types
If there is any risk of fire in your workplace you will be required to comply with Australian Standard 2444-2001 for fire extinguishers. Maintaining your fire extinguishers to Australian Standards means storing the correct extinguisher type in the correct location and environment, scheduling inspections every 6 months, and replacing extinguishers in case of fault or damage. It is important to be familiar with the different types of fire extinguishers in Australia, as using the correct equipment is vital to safely controlling a fire. So, what are the 5 different types of fire extinguisher and what are they used for?