Fire Safe ANZ technicians were recently carrying out testing at a car park in Sydney's North when they came across a fire hose reel that could not be released due the hose being trapped. It took two technicians almost ten minutes of manipulating and pulling, with some force, to free the hose from this position. During a fire every minute counts and if this hose reel was needed for an emergency it would have been inoperable to anyone attempting to use it.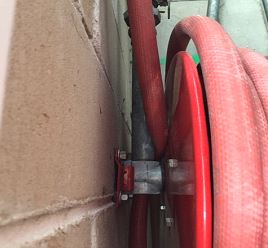 An all too common cause of fire hose reel failure is the misuse of the hose reel, such as using it to wash a vehicle, which is what happed in this instance. After it had been used it had not been returned correctly to the reel in its original position.
If a fire hose reel has been used to extinguish a fire it is important to remember the following points after use:
⦁ The hose is fully charged with water before being rewound in even layers, the nozzle re-engaged correctly in the interlock and the valve is shut off
⦁ The discharge nozzle has been opened and then closed to depressurize the hose
⦁ The hose can be withdrawn easily in any direction, i.e. the hose shall be capable of being unwound when subject to an initial horizontal pull not exceeding 100N
This is why regular maintenance of your fire protection equipment, by a competent technician, is so important. Luckily this was rectified on the spot and the site was left compliant.
For further information, please refer to the AS 1851.9 -2012 & AS 2441 -2005. Alternatively, to have your fire hose reels tested contact us.