With so many options available to tackle fires, from extinguishers and blankets to fire hose reels, it is vital that you choose the correct equipment for your circumstance.
Fire Extinguishers and Blankets
Fire blankets are used to extinguish small fires and are most commonly found in kitchens. They can be used to cover items which are at risk of catching alight (smoking or smouldering)  or which have progressed into a small fire, most commonly a pot or pan on a stove. They can also be used to wrap around someone if their clothes have caught fire or, to cover yourself to escape from a fire.
There are 6 classes (Class A – Class F) of extinguishers in Australia and New Zealand The class of fire which occurs (oil, paper, flammable liquids etc.) will determine the class of extinguisher needed. Using the incorrect extinguisher can sometime do more harm than good, so it is important to know what extinguisher is right for you.
Individual fire extinguishers can be rated for a single class or multiple depending on their application. The class of fire which occurs will dictate the type of extinguisher which will be most effective.
Fire Fighting Equipment Classes:
Class A: General combustibles such as wood, papers and plastics
Class B: Flammable and combustible liquids
Class C: Flammable gases
Class D: Combustible metals
Class E: Electrically energised equipment
Class F: Cooking oils and fats.
Fire Hose Reels
Fire Hose Reels are most commonly found in the majority of commercial, industrial and public buildings so they can be used as a first response to a small developing fire. With the correct training, fire hose reels are easy to use and, as they are connected to the mains water, have an almost limitless amount of water.
Fire Safe ANZ's Firefighting Equipment Identification Chart will help you identify and understand the firefighting equipment at your home and office.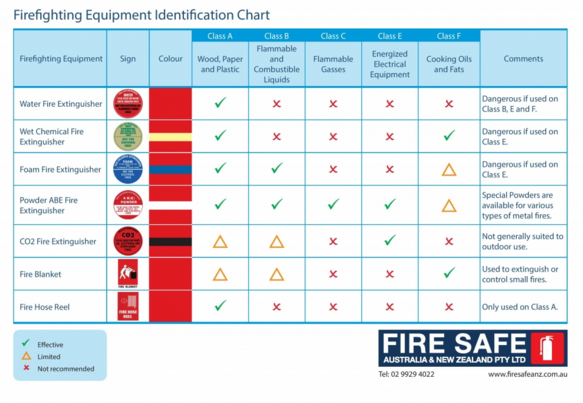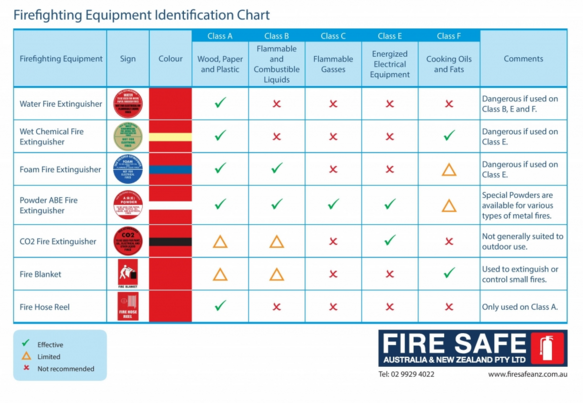 Ensure all your essential firefighting equipment is serviced regularly and remember to replace any extinguishers which have been used. For information of testing frequencies please visit our essential services maintenance page that outlines our packages.
Alternatively for more information on fire detection and warning systems or advice on any Standards, please contact us.